Catholic Diocese of Kitui
We cordially welcome you, regardless of your motivation for visiting our website, whether you are a parishioner from our own Diocesan family, a first-time visitor of any faith or none, or an information seeker.Jesus Christ unites us as brothers and sisters. God is our family's creator and father; He provides for us, pardons us, and adores us. We try to do the same for one another.
Our Mission

To be Christ Centred and Christ modelled Community
Our Vision

To Witness to Christ and be his instrument, through charity and services especially to the poor and needy, in order to affirm human dignity
 All Christians of Kitui Catholic Diocese
 Through the priests
In all circumstances give thanks for this is the will of God in Christ Jesus (1Thessalonians 5:18).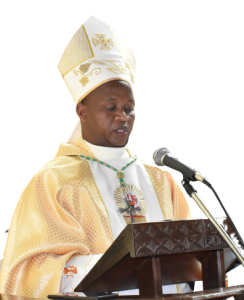 We begun the month of November with joy, hope and thanksgiving. God has finally blessed us with rains. May the Saints in heaven continue to intercede for us in all our needs. Let us plant early and use the right seeds and manure where and when possible. Let us conserve the soil. May we have enough water and pasture as